I've been thinking about Amazon, bookstores, and browsing.
November 9, 2015 | In: I've Been Thinking
Tucked in Monday's e-mail, I found an oxymoronic invitation: "Dear Mark, Tuesday morning, November 3, at 9:30, Amazon Books will open its doors. These aren't metaphorical doors; these real, wooden doors are the entrance to our new store." Struck by the bolt of irony (Amazon? Brick and mortar?), I cleared Tuesday's schedule before reading the next e-mail.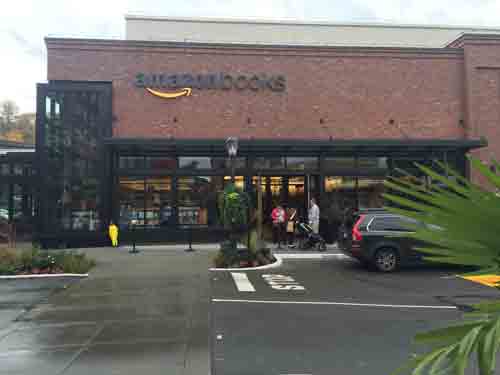 When Amazon opened its metaphorical doors in 1994, its name seemed like an overstatement. Along with most, I failed to visualize the size to which the bookstore without walls would grow.
A year later, an invitation in the Seattle Times (remember newspapers?) invited its readers to attend the grand opening of a mega bookstore in Seattle's newly made-over University Village. I accepted and crossed the 520 Bridge from Bellevue to the University District—not about to miss the unveiling of the next big thing.
Teeming with bibliophiles of all ages, Barnes and Noble's mammoth structure was christened the "sun" around which several dozen stellar village shops and restaurants would revolve and thrive for the next decade.
Other than its founder, Jeff Bezos, few could have guessed that Amazon's little online store would evolve into a wrecking ball capable of razing legacy bookstores everywhere, including our beloved University Village's Barnes and Noble, which shut its doors in 2011.
Not to blame Amazon. With the masses, I unwittingly helped vote my favorite bookshops out by browsing and buying online instead of among their stacks. I helped Amazon's name become an understatement.
So, early this past Tuesday, I crossed Lake Washington once again—this time for the grand opening of Amazon Books. Walking through tall wooden doors, I entered brick and mortar, glass and steel to be awestruck by its genius, which, I 'm pretty sure, is one of the next big things.
Did I mention that Amazon raised its bookstore with walls in, you guessed it, the University Village—a few hundred yards from where Barnes and Noble (now Room and Board) once stood?
The new store was packed with curious folks like me along with a dozen crews from local news outlets—none of which distracted me from immediately understanding the brilliance in Amazon's madness.
Instead of sitting at home in front of flickering pixels, customers were loitering amidst six thousand or so titles, all of whose covers were facing forward, begging to be opened and browsed. BTW, whoever warned against judging books by their covers is still fighting a losing battle.
Different from legacy stores, tilting heads are not required for reading book spines (which I found easier on my spine), eliminating the need to pull tomes out and minimizing the risk of customers returning them (if at all) to wrong locations (always annoying).
Most intriguing, customers are not required to sacrifice the benefits on which they've come to depend while clicking through amazon.com.
Think of the book covers and rapid-scan bar codes beneath each as hot links on cold surfaces. Amazon's smart-phone app offers bar-code scanning and a vision-recognition system for rapidly linking bookworms to useful information about each title. Starting with prices (which are the same in the store as they are at amazon.com), the app offers users the option of buying used or new copies, which may be shipped to loved ones—or to themselves for that matter. Why schlep five pounds of books back to Minnesota? And shipping is free for Amazon Prime members.
The app offers the option of buying and downloading Audible Books or Kindle versions on the spot before browsing the store some more. Plus, Amazon's algorithms recommend books other readers purchased who had bought the book you just picked up. Don't want it now? Another scan and a tap lets you add books to your wish list.
Want to get lost in a novel on your flight home or take a favor to that dinner party? Piece of cake. A few steps away, you'll find real people behind checkout counters to take your payment (cash, credit card, smart-phone pay).
I doubt if any of us who attended day one came with the intent of buying books. We were there to gawk, judge, and maybe witness a bit of history. Yet, the lines for on-site purchases, while fast, were long and steady.
In addition to books, visitors can play with and purchase Kindles, Fire Tablets, Fire TV Sticks, or Amazon's new Echo.
As in the good old days, a staff comprised of book lovers, ex-librarians, and seasoned booksellers is readily available to customers. Want to browse on your own? Beneath each book, you will find a review card showing the number of stars each has earned from previous Amazon readers, along with helpful notes and reviews.
Best of all, browsers can fondle the books and sniff their pages.
In summary, the baby the Internet threw out with the bathwater has been rescued and brought back into readers' experience without sacrificing the benefits we've gained from Amazon's online book- buying experience.
Bezos and team have created an intersection where old-fashioned and new-fangled browsing intersect.
The book-selling giant refrains from using words like prototype, experiment, or beta for their store. It does, however, call it their "first," which hints at more to come. I predict that Amazon Books stores will spring up fast and furiously. I'd bet there'll be one near you before long.
Meanwhile, until Amazon Books opens doors in Bellevue, I will be resuming my periodic trips across Lake Washington.
What do you think?


Mark Neuenschwander a.k.a. Noosh
mark@hospitalrx.com   http://twitter.com/hospitalrx
Copyright 2015 The Neuenschwander Company